Camera FTP Service
Make your security cameras really secure with Cloud Recording, Offsite Storage, Remote Playback and Real-time Monitoring.
Table of Contents
Introduction
If you've got a new security camera, or multiple security cameras that you want to set up around your home or business, you need Cloud Recording and Remote Playback; if you don't have a security camera, but you still want to monitor your home, your kids, your old parents or your pets, you can use our WebCam FTP Service.
Why Camera FTP service? Because:
(1) Security cameras are not secure themselves
They can be easily stolen or destroyed. For example, a burglar may break into your store and steal valuable goods. After that, if he sets a fire, your security cameras and all the recorded images and videos will be burned.
Using Camera FTP service, your cameras can automatically upload recorded images to our FTP server, which is hosted in a secure and remote location. A burglar can destroy the cameras, but he can never delete the recorded images in the cloud!
(2) Play back recorded images remotely
If anything happened to your house, your business or your loved ones, you can easily "rewind" and play back the recorded images from your PC, Mac or Smartphone. It is more than just monitoring, it is about offsite storage and preserving evidences.
(3) Real-time monitoring remotely
CameraFTP.com has web-based camera viewer, mobile viewer and mobile apps for iPhone, iPad, Android and Windows Phone. You can monitor your cameras in real-time from anywhere.
(4) Easy and low cost
CameraFTP.com is easier than any other services. You don't need to order DDNS (Dynamic DNS) service, you don't need to configure your router or firewall, you don't need to worry about your dynamic IP address, just configure the FTP settings for your IP camera, and your camera will automatically upload images to CameraFTP cloud storage.

Using local storage or local FTP server will cost you more on hardware. You will have to be computer savvy to do so. Moreover, it cannot match our security and service features.

CameraFTP is designed for the mass market. Our price is dramatically lower compared with services offered by traditional security companies, and it is so easy to setup. You can do it yourself!
Getting Started
If you haven't already done so, you'll need to sign up a CameraFTP.com account. Go to www.CameraFTP.com and click on "Sign Up" or "Free Trial". ( DriveHQ users must sign up a new account using a different username and email address. ) CameraFTP offers two-day free trial. After 2 days, you must order a paid plan to continue using our service. Our plan starts at only $1.5/month/camera, 10 times lower than other company's.
For those users lookig for a free service, sorry we cannot offer it for free. A security camera may keep uploading images to CameraFTP every second, it can easily generate 100 times or 1000 times more traffic than a regular user. With our price starts at only $1.5/month/camera, it is extremely affordable to any user. Please check out our service pricing here.
Configuring Your Security Camera
The configuration interface will be different for different camera manufacturers, but the basic information is the same. We recommend reading the manufacturer's instructions included with your camera, and following our instructions below as a general setup guide.
· In your camera setup page, find the section for FTP setup. The camera will need FTP information as follows:
o Host name: Enter ftp.cameraftp.com. Some cameras may only accept an IP address. If so, enter 66.220.9.45. The port number is 21.
o Username and password are the same ones you use to log on www.cameraftp.com.
o FTP Mode: In most cases, you should use Passive Mode. Active FTP Mode is often blocked by your firewall / router.
o The Path or Directory should be the name of the folder you want the images uploaded into. It is also the same as the Camera Name. Usually you name a camera based on the monitored scene, e.g. FrontDoor, Backyard, LivingRoom or Driveway, etc. You can add a new camera (name) after you logon www.cameraftp.com. If you have added a new camera with the name "FrontDoor" on www.cameraftp.com, then from your camera's configuration page, you can enter "/FrontDoor" as the Path (or Directory).
If the folder doesn't already exist in your CameraFTP account at the time of this configuration, it will be automatically created by the camera before the first image is uploaded.
o Connection (or upload) frequency – you must ensure that the camera connects to the FTP server no more than 5 times per second. Going over this frequency may be considered as abuse of the service; if you require higher connection frequency, please contact CameraFTP's sales team first.
o Motion Detection: Most cameras support motion detection. It is recommended enabling motion detection. This can help lower the bandwidth usage so that your camera is less likely to affect your Internet connection speed.
o Image Resolution: Please set your image resolution based on your CameraFTP subscription.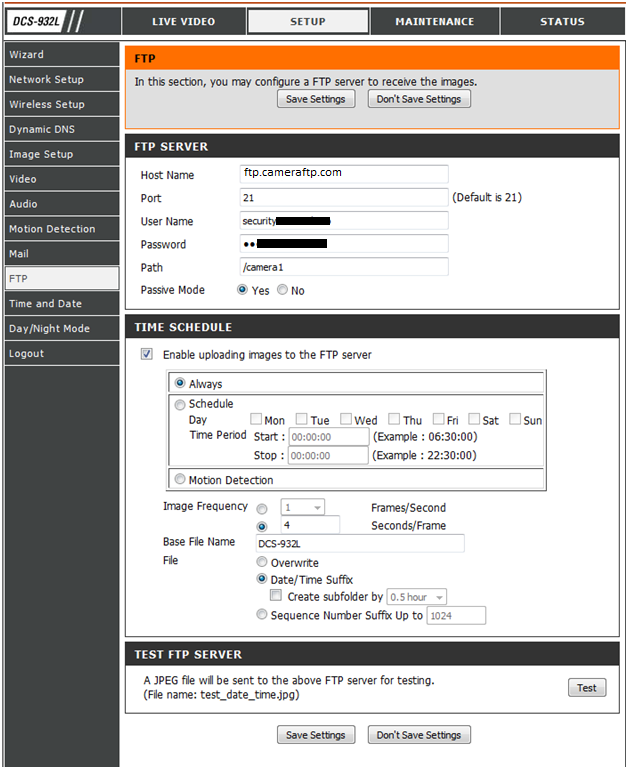 Example of a security camera FTP configuration page
When your camera is setup correctly, images will be uploaded to ftp.CameraFTP.com. For better efficiency and to support playback, images are packaged into zip files. You can download the zip files using FTP, or use CameraFTP's online viewer or mobile apps to view the recorded images.
Camera Show Player
To play back images, click on the Camera Show button. The player will launch. You can also download CameraFTP mobile apps for iOS and Android.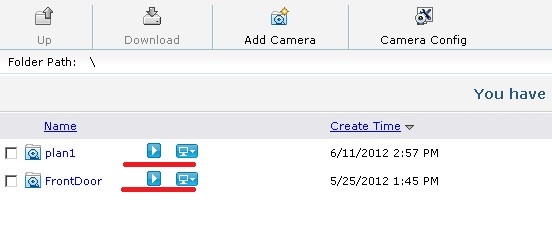 The player will begin to playback images, beginning with the latest zipped set. The timeline is on a 24-hour scale and you can drag the selector to play at the desired time. You can set how long you want to play images and also the length of time each image is displayed.

Need help?
Check out other helpful guides and our support forum at the Support Page
Contact us 7 days a week by email at support@cameraftp.com.
Phone support is available Monday – Friday 9-6 PM PST. Call us at 1-800-836-0199